Note: this is one of the posts in the series: How to conduct SWOT? (Previous entries can be found 

here

).
In the previous post we have discussed analysis and selection steps. Today it is time to focus on the third step of process which is:
EVALUATION 
When you have collected and noted features in the four categories (Strengths, Weaknesses, Opportunities, Threats) and selected the most valuable from each category, you are ready to move on to the next step, which is assigning values to selected features. Let's take another look of whole process.

In the previous step our main goal was preselection of the most important and valuable features. Now we can figure out what value can we assign to selected features and create rank of features.
Why one should assign values to SWOT features?
Each company focuses its efforts on maximizing results in its core business areas. Each person tries to do the same regarding to his talents. Both company and person, try to not get distracted into areas where may have limited impact or expertise. We need to find out our strong characteristics (Strengths) which help us build our business or personal success most effectively and also address only those critical weaknesses, which truly prevent us from being successful. We are looking for these distinguishing features to use or eliminate and know exactly what results can we expect.
We can select important features, but it is common case that not all features are equally important (just like not all actions can be done by one person in the same time). Some of our strengths have greater influence on everyday actions and likewise some weaknesses limit us more than others. Still, all of them are important, but some prioritization is needed to work with them effectively.
Establishing where the company or person stands in terms of strengths and weaknesses is an important part of the discovery phase of strategic planning and creating goals. And well defined and selected goals help us to focus our energy, form plans, get the opportunities, and give us a feeling of accomplishment.
To fully understand our current situation we need to audit:
features that are part of our internal environment
external factors that influence us.
Evaluation is a important part of this audit.
How can we do Evaluation?
The easiest way  to evaluate  is to assign score for each selected feature. Here are some tips on how to do this easily:
Choose whatever scale you need, but the easiest method is to assign scores between 1-100.
Make sure that the total score of all features in given category is equal to 100.
Think about these 100 points as a 100$ budget or 100 minutes to distribute.
Higher score means greater importance of previously selected feature.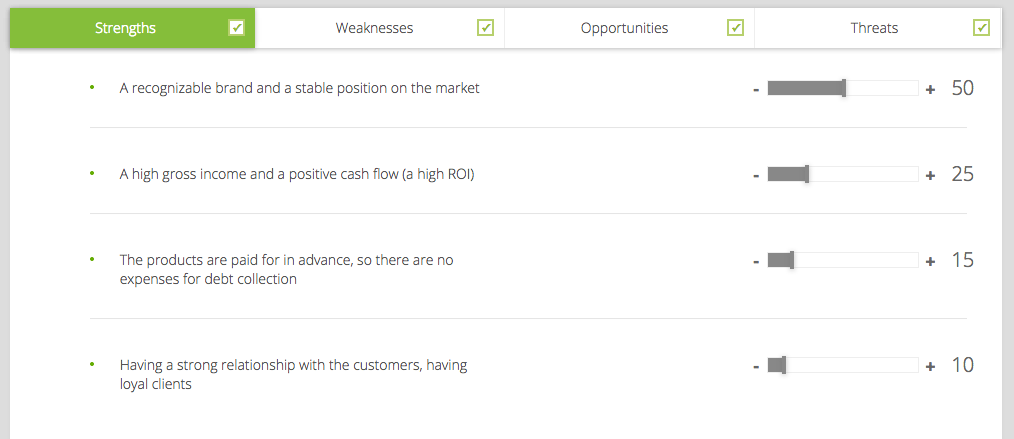 Look at the chart below. It contains example of three different evaluation for strengths in a business field.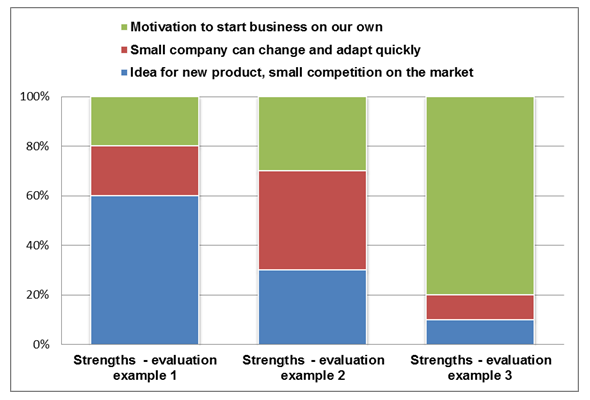 The first example shows that idea for new product has the higher importance than the two other features, but it is not always the case. Second example show that all three features are more or less equally important, which is absolutely fine (do not create false prioritization when it is not your case). Third example shows that motivation to start business is much more important than the other features, which of course does not mean, that two other features are not important at all!
Remember: you are still working of previously selected features and all of them should be important to you.
Tip: When you assign values to features and some features tend to have very low estimation (like 1-5 points of so), it could be a possible warning. Check if these features are in fact important to you. Maybe there are other features, which has greater importance and were missed on selection step. Or maybe you need to rethink analysis step and find other features which potentially has greater influence.
Evaluation is not only limited to internal features (Strengths and Weaknesses), but also to external factors. Even though very often we do not have direct control over these items, still we can assign importance to them.
Below we can see an example for personal career development. Depending on your current situation intrinsic motivations such as using language in practice can more important than extrinsic motivators such as larger income. Or other way around.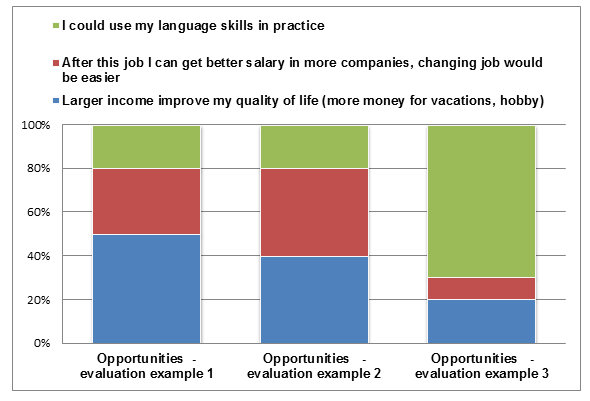 More important features may have greater influence
The purpose of the evaluation is quite straightforward. Assign scores to the features and prioritize items. But using evaluation as the final insight could be trickier than people would think. Remember that whenever you decide to assign value, your opinion is only limited to the notion that the given feature is that much important to you. This kind of score is somehow deprived from the whole context and creating strategy is all based on context and interactions between different categories of features.
This means that more important features may and only may have the greater influence on final strategy. But it could also be the opposite. Strengths with higher ranking but with low level of interactions with opportunities may not necessarily impact your strategy in a way you would expect. Of course, the probability of greater impact is high, but not certain.
To identify strategy you need another step. This step involves defining relations between evaluated features and it will be topic of our next post. Stay tuned and do not forget to try out our application: CayenneApps SWOT and do your first analysis today! 🙂
Read next: How your strengths influence your opportunities. SWOT analysis