The article is based on Uber 2017 - SWOT analysis, which can be found in the Library, in CayenneApps SWOT application.
---
It has been two years since we published our first SWOT Analysis of Uber — a ride-sharing company. Back then, Uber was a phenomenon — one of the brightest stars of the new "sharing economy." The company was worth more than $40 billion dollars, very popular in the United States but still gaining popularity around the World, with a strong leadership represented by Trevor Kalanick and in a constant love-hate relationship with its customers and drivers — a true "unicorn" in the modern, Silicon Valley-driven digital era.
Fast-forward two years to the present. Uber has expanded its services to twenty more countries, increased the coverage of its subsidiary services such as Uber EATS, bought Otto and invested more and more into self-driving cars. Its valuation has reached the astonishing level of $70 billion dollars, making it one of the most highly valued private-owned companies in the world.
In the meantime, Uber has unfortunately lost its CEO due to numerous scandals involving company employees responsible for sexual harassment and mobbing, suffered more than a few resignations of the executives, retreated from China and become a new symbol — the symbol of a Silicon Valley startup culture gone awry. The symbol of a company whose application you would remove from your mobile because it smells so bad, even though it so enormously useful.
So, how have all these changes impacted our previous analysis? Let's take a look at numbers.
Numbers
On one hand, the impact of the Strengths decreased from the pretty solid level of 53% to 44%. On the other hand, the impact of the Weaknesses increased sharply from 66% to 86%. This means that the biggest challenge for the company right now is to focus on their weaknesses, especially the ones which have the most significant influence on Threats. Let's dive in into those.
"A lot of negative press coverage. Uber CEO Travis Kalanick stepped down due to separate scandals involving harassment allegations, workplace culture, unflattering video footage, a lawsuit alleging technology theft, and a social media campaign encouraging riders to delete Uber's app." (17.6%)
"Arrogance on the part of executives, which could lead to unjustifiable business decisions, and then to losses." (17.1%)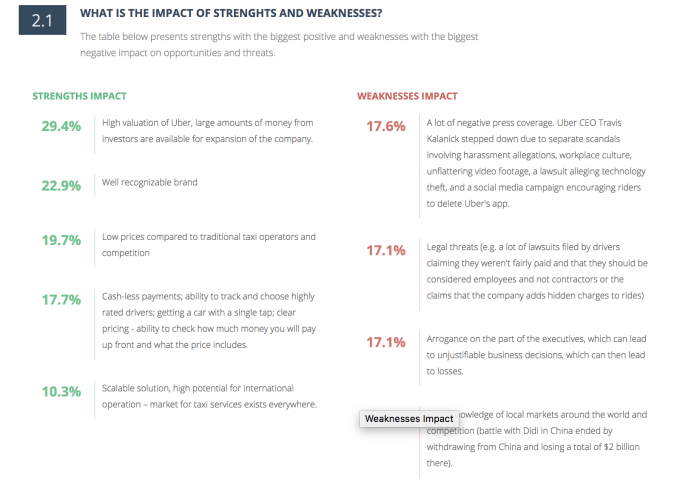 Bad press coverage
2017 hasn't finished yet, but as for the press coverage, it might be the worst year for Uber since its beginning in 2009.
In February, Susan Fowler, a software engineer who left the company two months earlier, published a blog post which described her time spent in Kalanick's startup. It was a story of discrimination and sexual harassment — all coming from the line managers. The story of a place where the pace of growth is more important than the people. The post drew a lot of attention from the media and caused an avalanche of charges. Many former and current employees started discussing what the culture of Uber looks like and sometimes it wasn't a pleasant picture.
Their win-at-any-cost mentality helped the company achieve market domination, but as a side effect created a rotten culture. This became a top story for tech and non-tech media companies for weeks. Unfortunately for Uber's CEO, a lot of blame was put on him — especially when Bloomberg released a video of a "dispute" between Kalanick and one of the early Uber drivers which showed the belligerent and arrogant attitude of the company's top executive. The same attitude which, in the long term, caused the decay among the company line managers.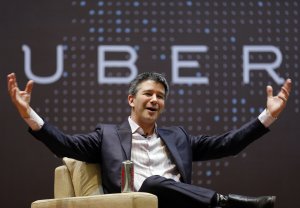 Kalanick resigned in June 21st, but this was only the beginning of the road of improvement. Building a new culture, and most importantly, restoring the trust of the investors (who demanded Kalanick resign) and customers (more on this later in the article) will be one of the greatest challenges for Uber and its new CEO Dara Khosrowshahi, not only in 2017 but in years to come.
Alas, sexual harassment and mobbing aren't the only problems which the ride-sharing giant faces right now.
Legal threats
"Legal threats (e.g. a lot of lawsuits filed by drivers claiming they weren't fairly paid and that they should be considered employees and not contractors or the claims that the company adds hidden charges to rides)"
"Weak knowledge of local markets around the world and competition (battle with Didi in China ended by withdrawing from China and losing a total of $2 billion there)."
In March 2017, the New York Times published a story about a tool called Greyball. In short, Greyball is a software developed by Uber allegedly to protect the drivers which tracks customers who "violate the terms of service." So far so good. But the dark side of this seemingly harmless tool was that it was used to evade authorities in cities and countries where the operations of Uber were illegal. Uber's software identified enforcement officials who wanted to ticket Uber drivers and presented them a fake version of the application which eventually impeded the operation.
A month before, Waymo — a self-driving company owned by Alphabet (or Google if you like) sued Otto, a company now owned by Uber, for allegedly stealing the company's proprietary design for its laser-based radar technology. Waymo suggested that its former employee (and then Google's employee), Anthony Levandowski downloaded 14 000 "highly confidential files" to speed up the development of a crucial part of the self-driving vehicle systems.
But suggestions that Uber plays "unfairly" aren't the only business issue of the American company. More than 10 000 kilometers east, Uber faced another challenge, maybe far more important than the legal matters they encountered in other parts of the globe.
External markets
In China, one of the largest markets in the world, a local company named Didi Kuaidi (known internationally as the "Uber of China" ) bought a Chinese branch of Uber and, thereby ended, a long-lasting war between local player and American pretender. Didi Kuaidi now owns almost 99% percent of the taxi-hailing market share and, also being in a strategic partnership with Lyft, is the number one choice for young Chinese. On the other hand, for Uber, their whole presence in China seems pretty depressing. The American company lost battle after battle and finished the Chinese adventure nearly 2 billion dollars in the red.
For a company like Uber it was a major blow, but not a fatal one. The American startup now wants to focus on emerging markets such as Brazil, where they can find millions of new customers but also, unsurprisingly, lots of resistance from local authorities, legal battles, and taxi drivers' protests.
2017 hasn't been the best year for Uber, but will it impact the company's performance in the long term?
Summary
For sure, Uber is one the hottest brands in the tech industry, but it has also become a part of many people's lives. Last week, when a waitress in a restaurant tried to explain to me how a new table-booking application worked she said: "It's just like Uber," being sure that I would know what she meant.
She didn't even mean that the application was a "shared economy" service. She meant that it's the kind of application where you put your credit card details in, it is easy to use, convenient, and finally, from a customer perspective, cheaper. Just like Uber.
In many countries, when taxi drivers are protesting against Uber, a lot of people do not support them. For them, the taxi industry is a part of the past. Old-fashioned, expensive and cumbersome. Uber is the future; a people-oriented global service which is modern, convenient to use and cheap.
But, on the other hand, the same customers who previously shared a love for Kalanick's company are tweeting #DeleteUber when they feel that they are mistreated as when Uber increased prices during the 'travel ban crisis.'
But tweeting is easy. The big question is what happens the day after?
Are they reinstalling the app? Are they choosing Lyft or other new companies such as Juno? Are going back to old taxi services? In the long term, their decisions may have a long lasting impact on the Uber's fate and the fate of the whole industry. Because it all boils down to tapping a button on their phone.
It will be super fascinating to watch what happens to Uber in next two years. Maybe we will do another SWOT Analysis then. In the meantime, please take a look at our analysis in the CayenneApps SWOT and share your thoughts in the comments section!