Todays post is quite different from others. Also it is not directly connected to businesses, startups and planning. Interested? Read on!
SWOT can be fun!
Some people may think that the SWOT analysis is only applicable for a business purpose and that it is actually quite boring. In fact, I believe that they could not be more wrong. SWOT is not about worksheets and wasting hours on conducting analysis. SWOT is about a deeper understanding of reality which is all around us and last but not least: SWOT can be real fun!

Last Wednesday we watched the game between Netherlands and Argentina. Before the penalties round, there were not many exciting moments on the field, so we started wondering who could win the World Cup.
A majority of experts would say: "of course Germany", but we wanted to look into the subject in a deeper and more fun way. We looked on our computer and saw the landing page of CayenneApps. The idea came to us in just a second: "Let's do SWOT!". We decided to use "this supposedly boring business analysis" and show people that this can also be fun! In the meantime Maxi Rodriguez scored last penalty and the stage was set. Soon we were creating one SWOT for Germany and one for Argentina!
Here is the special link: World Cup 2014 SWOTs with our SWOT analysis for both teams.
What makes Germany great, what makes Argentina great?
We collected some info from newspapers, websites, friends and even ourselves (we love football – or soccer if you wish) and started building analysis. This brainstorming was such a fun, because some of us love German football and some are thinking that is real crap! Remember: this kind of differences make collaboration on SWOT so productive!
After the analysis we learned that Germany has really good midfielders such as Toni Kroos, great potential in attacking on right wing (the one where is Mueller and Lahm), but on the other hand the are really vulnerable to counter-attacks and long-passes, because we saw this in a game with Algeria!
As we proceeded to Argentina we learned, that they have great attackers and this not only limits to Leo Messi, but also applies to Lavazzi or Higuain. They are quick and they are great with technique. We noted that Mascherano is a great asset in defence, but on the other hand whole Argentina relies somehow on Messi and they are not playing great football on this tournament.
Take a look at some of the features we noted on Germany Team:
These are others for Argentina:
Here you can see full analysis for Argentina and here for Germany. Could be overwhelming to keep this in a worksheet, right? We are glad that we made CayenneApps to make this stuff easier.
How to play against each other?
Of course, to limit somehow the set of features we selected some of the features as more important. This way we learned that Argentina is really strong in attack and Germany players rule in the midfield. As we described in our series of posts we selected features, then evaluated them and last but not least we created relation between them. And now it is the biggest fun: waiting for result. We have not described yet, how the summary looks like but let's make an exception. It is the World Cup for Gods Sake!
Checkout what we have discovered: Argentina should play aggressively and focus on attack, even though they have strong defence. The recommended strategy for them is aggressive. Take a look on some statistics, the one below shows what features selected and evaluated by us have the biggest influence on their suggested strategy. Go Messi, Go!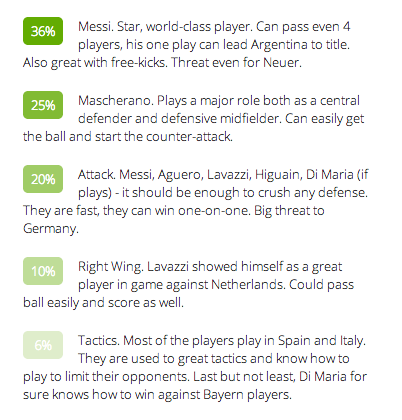 Here we can see what Argentinas features have the biggest impact on all possible strategies. First, strengths and second, weaknesses.
Sounds nice, isn't it? Let's take a look at the other team: Germany. As we (or to be precise – our algorithm) analysed all the features we have created, we suggest Germans to focus on defence! Yes – CayenneApps officially recommends defensive strategy for Germany. This may not be the greatest choice for the show, but… each team would like to win, right? Whether it is 1:0 or 7:1! Take a look on the weaknesses of Germany which lead us to suggest defence: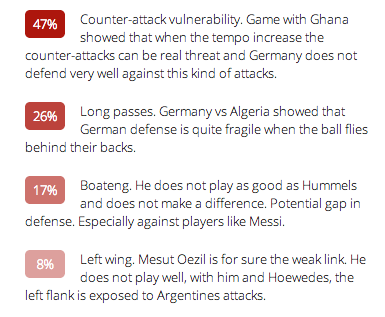 And another look on strengths and weaknesses which have the greatest impact on all strategies: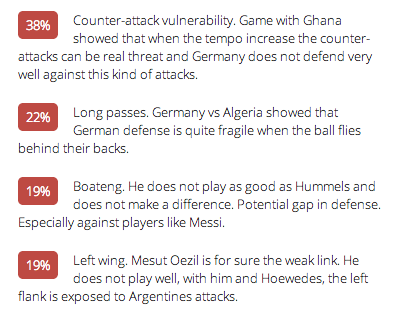 Who will win?
Of course, dear Mr Loew and dear Mr Sabella, we have a bunch of advices for you. Germany should:
Avoid threats and try to eliminate weaknesses which has biggest impact.
So please focus on defence and do not let Argentina to perform counter-attacks. And as for Argentina we suggest that they:
Use your internal strengths widely to gain an advantage.
Which means, use your skills to attack! Whether is regular attack or counter-attack, you must score. If you will focus only on defence Germans will sooner or latter score and there is nothing which can stop them then. Thats our opinion, backed by analysis done with CayenneApps. And what is your opinion? Please leave the comments! Who should win: Germany or Argentina?
Here is ones again the special link: World Cup 2014 SWOTs with our SWOT analysis for both teams.